Applications accepted quarterly
Student-in-Residence Accelerator
The Student-in-Residence Accelerator program is a specialized program for student founders actively enrolled at Stanford. It is a 6-month program and includes financial aid. In order to be eligible to apply to the Student-in-Residence accelerator, you must be a current Stanford student or PhD.
To qualify as a founder you must hold a significant equity stake in the company.
We require no fees and take zero equity
We are an educational non-profit whose mission is to accelerate the development of the highest-potential founders out of Stanford through experiential education and collective intelligence.
What can I expect from the accelerator program?
StartX is a home to some of the best Stanford affiliated (and non-Stanford) founders, mentors and advisors. StartX offers tactical help & resources, experiential education, funding and a vast network of mentors, investors, and domain experts.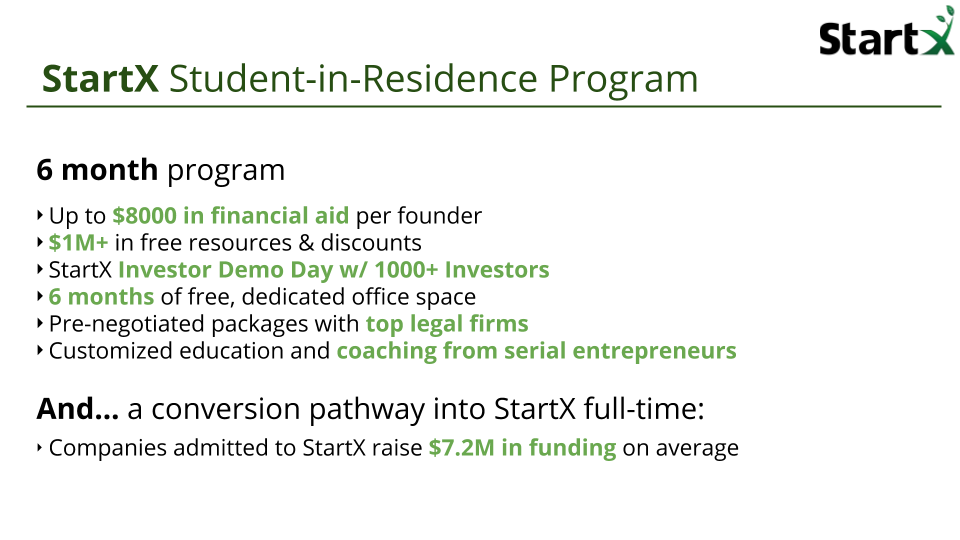 Through our community, you can get access to 1200+ world class coaches and advisors, on demand access to experts, and customized educational programming based your team + industry + stage.
Plus, all companies receive $1.2 million+ of free resources, as well as drop-in office space, legal advice, etc.
Applications accepted quarterly
Apply for Student-in-Residence
Student-in-Residence collaborates with many Stanford programs and the Stanford student government. We support all Stanford founders, including undergraduates, Master's students, and PhD students. (Postdocs, alumni, and professors should
apply for the StartX Community
instead). Founders in the Student-in-Residence program are carefully selected, and each session we welcome founders who are amazingly diverse, passionate, and talented.
As thriving and supportive members of the Student-in-Residence accelerator, you will help each other approach obstacles from different perspectives. You will have peers who have studied medicine, engineering, business, humanities, law, science, and more. This creation of an interdisciplinary environment contributes to our norms of trust and information sharing.
How is Student-in-Residence different from other accelerators?
Student-in-Residence is one of the best accelerator programs in the world! The program is completely free; We don't take any equity from you! No strings attached.
(We are an educational non-profit funded through grants, donations, and corporate sponsorships, including $8M in grant funding from Stanford University, Stanford Health Care, and Kauffman Foundation.)
What criteria do your judges look for?
Student-in-Residence judges focus on evaluating the team rather than the idea.
They evaluate (in descending order of priority):
passion and commitment demonstrated by founders
team dynamics
ability to execute & core competency
willingness to understand your market
How many companies do you admit? What is your acceptance rate?
We don't have a set quota / number of companies. Student-in-Residence judges will admit any team that exceeds our quality bar.
Note: Historically, the acceptance rate varies between 8%-10%.
How many sessions do you run every year? How long is the accelerator program?
The accelerator program spans six months and two sessions. Each year, we run three 10-week sessions: spring, summer and fall. (We are looking to expand to four sessions per year! Stay tuned!)
Am I too early for the Student-in-Residence program?
Founders are evaluated purely on their potential. A great way to find out what you need to be admitted, is to have applied in a previous cycle. Teams not admitted are always offered customized advice & feedback, on what steps they can take to reach the next level.
The application process itself is a great learning opportunity, it forces you to think about uncomfortable but crucial parts of your business, and on top of that every applicant gets valuable feedback from the judges. We are an educational non-profit and our goal is to help all entrepreneurs reach the level they need.